Double channel hologram sticker
1. Hologram sticker is made of polyester film and shot by laser beam in different angles which figures out different colors red, green, blue, yellow, etc, in different viewing angles.
2. With laser technology, hologram sticker has the unique feature which leads to the only specification to reach the anti counterfeit effect.
3. Besides the basic laser effect, also we can combine other technologies to make hologram anti counterfeit more powerful. We have serial number, silkscreen print, 'VOID' reveal, double channel, embossment, demetalized.
4. In hologram sticker, there are two main parts: one time use and permanent. One time use hologram sticker will be self-destroyed when removed from application substrate, but permanent ones will keep the same.
5. Size and design picture of sticker can be customized.
6. Production process: laser engraving---mold pressing---silkscreen---printing serial number---coating adhesive---die cutting---packing.
7. If you need standard sample, it is free, only you pay the shipment is ok. And if you want customized sample, it will take some cost depended on what the exactly product it is.
8. Application: suitable for sealing on smooth paper, metal, glass, cloth, carton, box and plastic.
| | |
| --- | --- |
| Face material | PET film |
| Glue | Water glue |
| Type | One time use |
| Hidden text | VOID / VOID OPEN / Honeycomb / Customized |
| Size/Design | Customized |
| Color | Laser effect |
| Package | Roll/Sheet |
| Solution | Anti counterfeit |
| Serial number | Yes |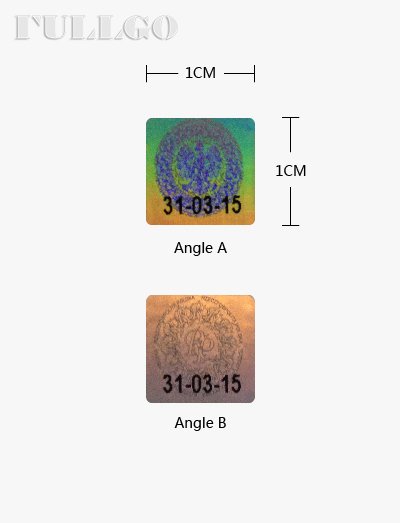 Product Details
Hologram sticker is shooted by laser beam in different angles, which figures out different colors, such as red, green, blue, yellow, etc, in difference viewing angles. Colors of the hologram will change, because when rainbow hologram is turned back and forth, depending on the light source and viewing angle, the colors will run through the spectrum. There are three kinds of hologram sticker: Hidden text revealing (VOID, VOID OPEN, Honeycomb, customized) / One time use / Permanent use.
Surface Printing

Face material of hologram sticker
is PET film. We can make it into
different holographic colors with
laser beam as required. And also
we can engrave various figures from
AI format designs on the sticker. It
can be customized with words, logo,
serial number, graphics, etc.
PET Film

We use Dupont PET face material,

which is the most suitable for
hologram sticker. Besides the
material itself, also we will make
it better in manufacture. Because
before we print the mold on the film,
we will do corona treatment first,
which can make it more accepable
of mold printing and pigments
coating.
Double Channel


With special engraving technology,
we overlap two different pictures
together in two layers. When we
view it from different angles, along
with the color changing, we can
see each of them one by one
from time to time.
Project Show
After we finish the hologram sticker depended on the AI fromat design, others can not copy it 100% the same, as long as they will not get the original AI design. Besides anti counterfeiting function, we can use our diversified laser technologies to make the hologram sticker more personalized and good looking, which will make it more suitbale to our brand and products, also increase in the value.
| | |
| --- | --- |
| Product identification | Product identification |
| Product identification | Product identification |
Product Structure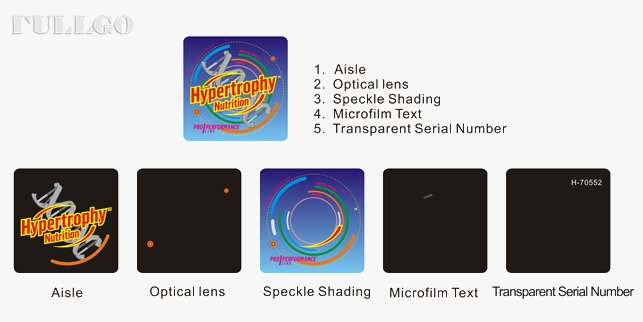 1. Adhesive:
1>Initial adhesive : SI(N/25mm) 12.24; CGS(G/25mm) 1289
2>Permanent adhesive: SI(N/25mm)14.16; CGS(G/25mm)1457
3>Cohesion: (sec.) NC 30000
Note:
Initial adhesive:20 to 40 mins after application;
Permanent adhesive:24 hours after application;
Cohesion:0 angle dead load test at 40C,applied area:25mm*25mm 1kg load
2. Temperature resistant: -40C to 120C degree
Service Policy & Packaging
Before-sales Service: Fast quotation, we give price within 8 hours; Free sample, we offer free standard sample for customers to check first; Free design, we provide professional free design for customers on the sticker. (But about the color problem, sometimes we see different colors in different computers, so if customers can prepare AI format design will be welcomed)
Medium-sales Service: We will follow the order and keep information updated to our customers. If it is necessary, we can take pictures to see before we finish the order.
After-sales Service: We take seriously care of shipment and positively cooperate with any document we should provide. After products arrive, we will actively make sure with our customers, not only whether the quality is good or not, but also we communicate with customers about the process, understand each other. Which is not good enough, then we improve it, in the next order we can do it more smoothly and efficiently. Of course, if there is any product is in poor quality, we should and have to manufacture it again.