Customized logo self destructive sticker
1. Self destructive sticker is made of vinyl film, and the release liner is art paper or glassin paper.
2. After we paste it on the surface of content, there isn't anything different from normal sticker. But when we try to open it, the sticker will be broken easily into small pieces. So it will be hard for people to tear it off entirely, if there is someone try to do it, there will be an evident.
3. Because of the particularity of destructive vinyl material, exhausting is not an including manufacture process after sticker die cutting.
4. Calcium Carbonate is one of the composition of destructive vinyl material, so it should not be stored for a long time in a high temperature or under sunshine, then it will be oxidated.
5. Size and design picture of sticker can be customized.
6. Production process: destructive vinyl film---coating adhesive---label surface printing---die cutting---packing.
7. If you need standard sample, it is free, only you pay the shipment is ok. And if you want customized sample, it will take some cost depended on what the exactly product it is.
8. Application: suitable for sealing on electronics, appliances, metal, glass, plastic, carton and box.
| | |
| --- | --- |
| Face material | Destructive vinyl film |
| Glue | Acrylic pressure adhesive |
| Release liner | Art paper / Glassin paper |
| Size/Design | Customized |
| Color | CMYK |
| Jumbo roll | 1070mmx200m |
| Package | Roll/Sheet |
| Solution | Warranty / Anti counterfeit / Anti theft |
| Serial number | Yes |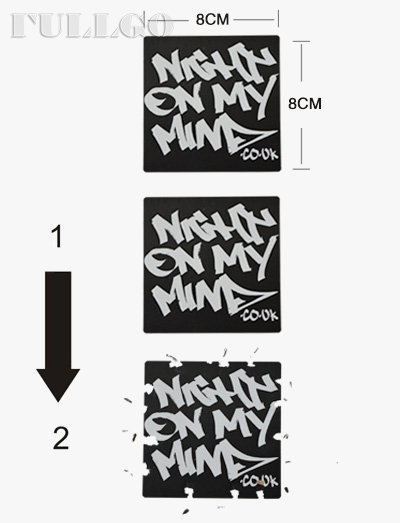 Product Details
Self destructive paper is composed of a very weak, brittle substrate and aggressive adhesive which ensure that the paper will be disintegrated into many small components if any attempt is made to remove it. It has the features of after adhesive can't tear off completely and no resue. With other printing and die cutting technologies, we make it into suitable stickers which will be normally used in commodities warranty and seal.

Surface Printing

Face material of self destructive
sticker is destructive vinyl film.
Normally this kind paper is white,
but we can put it into different
colors as required. And also we
can print various figures from AI
format designs on the sticker. It
can be customized with words,
logo, serial number, graphics, etc.
Self Destructive Vinyl Film

Featured with brittle substrate, can't
tear off completely and no reuse for
second time, self destructive vinyl
film becomes the most suitable
material for this sticker. It is suitable
for printing process, resisting for
aging and high temperature, no
crack and no discoloration.
Self Destructive


After we paste the sticker on
the surface of content, if
someone try to open or remove
it, it will be broken into many
small pieces. So it can't be torn
off entirely, if people try to do it,
there will be an evidence.
Project Show
Self destructive sticker is widely used in warranty of mobile phone, computer accessories, car components, appliances, wine, medicine, food, comestic, etc. Features of these commodities warranty are high value, heavy responsibility, accurate warranty date demand, thus, quality of this sticker is directly related with products after-sale service and economic interests. We will keep good and stable standard of quality, then it can avoid lost and dispute in products warranty.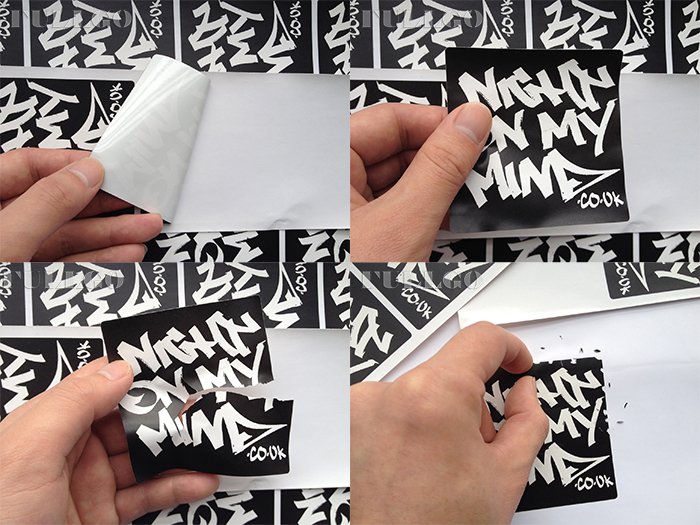 Product Structure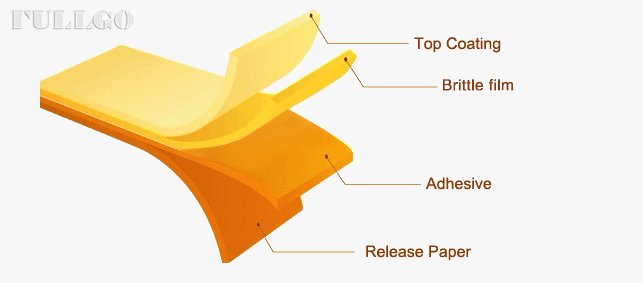 1. Elongation:2‰-4‰
2. Smoothness:GOOD
3. Printability: Good
4. Peel adhesion:14#ball
5. Release Force:≥8N
6. Temperature Range:-5-40℃
7. Solvent Resistance: Good
8. Breaking strength:5.0
9. Die cutting: Good
Service Policy & Packaging
Before-sales Service: Fast quotation, we give price within 8 hours; Free sample, we offer free standard sample for customers to check first; Free design, we provide professional free design for customers on the sticker. (But about the color problem, sometimes we see different colors in different computers, so if customers can prepare AI format design will be welcomed)
Medium-sales Service: We will follow the order and keep information updated to our customers. If it is necessary, we can take pictures to see before we finish the order.
After-sales Service: We take seriously care of shipment and positively cooperate with any document we should provide. After products arrive, we will actively make sure with our customers, not only whether the quality is good or not, but also we communicate with customers about the process, understand each other. Which is not good enough, then we improve it, in the next order we can do it more smoothly and efficiently. Of course, if there is any product is in poor quality, we should and have to manufacture it again.