High transfer warranty void security sticker
1. Warranty void security sticker is made of polyester film, and the release liner is glassin paper.
2. After we paste it on the surface of content, there isn't anything different from normal sticker. But once we tear it off, the hidden tamper evident words 'VOID' or 'VOID OPEN' will appear. It is totally transferred to the surface where we stick it to and it can't be fixed to return back. It means that the content has been opened.
3. The hidden message can be customized, we can put any words or graphics in it.
4. High transfer means that when we tear it off, the word 'VOID' or 'VOID OPEN' will remain on the sticker, and the rest part will reveal on the surface where we stick to.
5. Size and design picture of sticker can be customized.
6. Production process: clean film---corona treatment---hidden message printing---color printing---coating adhesive---label surface printing---die cutting---packing.
7. If you need standard sample, it is free, only you pay the shipment is ok. And if you want customized sample, it will take some cost depended on what the exactly product it is.
8. Application: suitable for sealing on smooth paper, metal, glass, wood, plastic, carton, box and treatment PE/PP bags.
| | |
| --- | --- |
| Face material | PET film |
| Glue | Acrylic pressure adhesive |
| Hidden text | VOID / VOID OPEN / customized |
| Size/Design | Customized |
| Color | CMYK |
| Jumbo roll | 530mmx400m |
| Package | Roll/Sheet |
| Solution | Anti counterfeit / Anti theft |
| Serial number | Yes |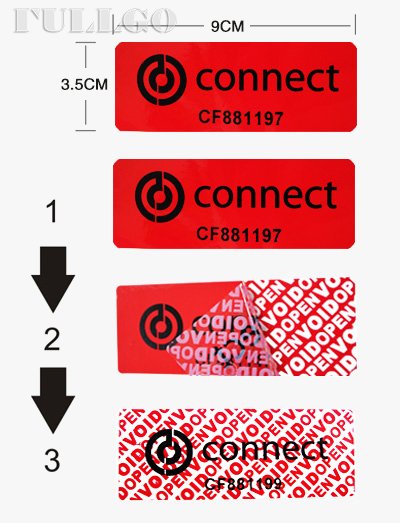 Product Details
Warranty void security sticker is used to seal and protect products, which can be set as anti counterfeit, anti theft. This kind of label, once torn off or opened,the pre-set messages or graphics will be shown up,such as 'VOID / VOID OPEN',which means the labelled products have been opened by someone else. There are three kinds of void sticker: Low transfer, High transfer, Non transfer. VOID / VOID OPEN are our standard texts, also we can customize the messages left after peeling off as per client's request like company logo or other information.

Surface Printing

Face material of warranty void

security sticker is PET film. We can
put it into different colors as
required. And also we can print
various figures from AI format
designs on the sticker. It can be
customized with words, logo,
serial number, graphics, etc.
PET Film

We use Dupont PET face material,

which is the most suitable for
warranty void security sticker.
Besides the material itself, also we
will make it better in manufacture.
Because before we print on the
sticker, we will do corona treatment
first, which can make it more
accepable of pigments printing and
tamper evident words engraving.
VOID Reveal


Legible 'VOID' reveal performance

is the main part which makes this

warranty void security sticker

different from normal stickers. We

have serious accurate chemical

composition for this 'VOID' and

also it can be customized to any

other words and graphics.
Project Show
Warranty void security sticker is in the purpose of avoiding every attempt of opening, removing and resealing, applicable for anti counterfeit and anti theft. Once opened the layer will be separated, structure breach will appear on the surface of sticker and applied object, also the hidden tamper evident words will be revealed and can't be fixed back.
| | |
| --- | --- |
| Content sealing | Tearing off, 'VOID' revealing |
| Content opened, can't be fixed back | Asset taking out, anti theft value arrived |
Product Structure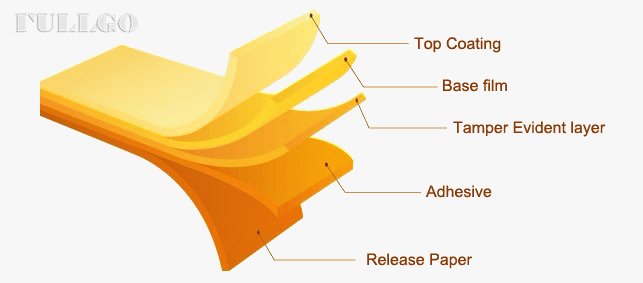 1. The initial viscosity-FTM9(st,st):5 sheet ball
2. 30 minute 180°peeling sticky-FTM2(st,st):10N/25mm
3. Retentivity(1000g counterweight):12H
4. Temperature:-20℃~+90℃
5. Surface substrate basis weight: N/A;Thickness: 0.038mm 10%1.
6. Adhesives: permanent acrylic latex with good initial tack and tack holders.
7.Storage conditions: at a temperature 23±2C,relatively humidity 50±5%
in this situation can be saved for half a year.


Service Policy & Packaging
Before-sales Service: Fast quotation, we give price within 8 hours; Free sample, we offer free standard sample for customers to check first; Free design, we provide professional free design for customers on the sticker. (But about the color problem, sometimes we see different colors in different computers, so if customers can prepare AI format design will be welcomed)
Medium-sales Service: We will follow the order and keep information updated to our customers. If it is necessary, we can take pictures to see before we finish the order.
After-sales Service: We take seriously care of shipment and positively cooperate with any document we should provide. After products arrive, we will actively make sure with our customers, not only whether the quality is good or not, but also we communicate with customers about the process, understand each other. Which is not good enough, then we improve it, in the next order we can do it more smoothly and efficiently. Of course, if there is any product is in poor quality, we should and have to manufacture it again.