Standard version tamper evident security tape
1. Tamper evident security tape is made of polyester film.
2. After we paste it on the surface of content, there isn't anything different from normal tape. But once we tear it off, the hidden tamper evident words 'VOID' or 'VOID OPEN' will appear. It is totally transferred to the surface where we stick it to and it can't be fixed to return back. It means that the content has been opened.
3. The hidden message can be customized, we can put any words or graphics in it.
4. The standard size of tamper evident security tape is 50mmx50m.
5. Size and design picture of tape can be customized.
6. Production process: clean film---corona treatment---hidden message printing---color printing---coating adhesive---design printing---die cutting---packing.
7. If you need sample, it will take some cost depended on the quantity and what the exactly product it is, standard or customized ones.
8. Application: suitable for sealing on cartons, boxes, cases, cans and containers.
| | |
| --- | --- |
| Face material | PET film |
| Glue | Acrylic pressure adhesive |
| Hidden text | VOID / VOID OPEN / customized |
| Standard version | 50mmx50m |
| Size/Design | Customized |
| Color | CMYK |
| Package | Roll |
| Solution | Anti counterfeit / Anti theft |
| Serial number | Yes |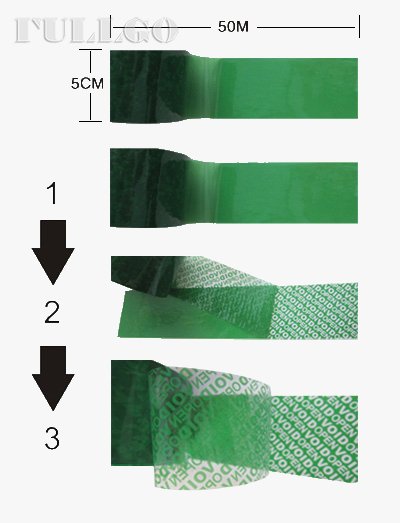 Product Details
Tamper evident security tapes can be set as anti counterfeit, anti theft. It is used to seal high value products. Before removing the tape, we can not see any hidden security messages on it. But after removing it, the anti-counterfeiting information will be found; also the tape and package surface will show obvious structural damage once the package is unpacked. We can customize the messages left after peeling off the tape,such as VOID / VOID OPEN / Other private pattern or information as per client's request.
Surface Printing
Face material of tamper evident
security tape is PET film. We can put
it into different colors as required.
And also we can print various
figures from AI format designs
inside of the tape. It can be
customized with words, logo,
serial number, graphics, etc.

PET Film
We use Dupont PET face material,
which is the most suitable for tamper
evident security tape. Besides the
material itself, also we will make it
better in manufacture. Because
before we print on the tape, we will
do corona treatment first, which can
make it more accepable of pigments
printing and tamper evident words
engraving.

VOID Reveal
Legible 'VOID' reveal performance
is the main part which makes this
tamper evident security tape
different from normal tapes. We
have serious accurate chemical
composition for this 'VOID' and
also it can be customized to any
other words and graphics.

Project Show
Once tamper evident security tape is torn off, 'VOID' will come out, and it can not be fixed back, so it means the content has been opened before. The anti theft value will increase the impression of customers. The box will arrive at our customer completely and our customer will be the first one to open our valuable packages. Our products and most important assets will be protected.
| | |
| --- | --- |
| Content sealing | Tearing off, 'VOID' revealing |
| Content opened, can't be fixed back | Asset taking out, anti theft value arrived |
Product Structure



1. Face stock: Top-coated clear glossy polyester film
2. Adhesive: Solvent based acrylics pressure sensitive adhesive
1>Initial adhesive : SI(N/25mm) 12.24; CGS(G/25mm) 1289
2>Permanent adhesive: SI(N/25mm)14.16; CGS(G/25mm)1457
3>Cohesion: (sec.) NC30000
3. Temperature resistant: -40C to 120C degree
Note:
Initial adhesive: 20 to 40 mins after application;
Permanent adhesive: 24 hours after application;
Cohesion: 0 angle dead load test at 40C